Since 2007, I have been on the faculty of the School of Information Sciences (formerly, the Graduate School of Library and Information Science) at the University of Illinois, where I teach courses in comics reader's advisory, media literacy, and youth services librarianship. At Illinois, I am affiliated with the Center for Children's Books, the Center for Writing Studies, and Gender and Women's Studies. You can learn more about my research and scholarship here.
I earned my MLS from Indiana University in 1993 and my PhD in Information Science, also from Indiana University, in 2007. My dissertation was titled, "Of Nightingales and Supermen: How Youth Services Librarians Responded to Comics Between the Years 1938 and 1955."
Before becoming involved in the education of library and information science professionals, I worked as a high school librarian and had supervisory duties at the elementary school level. For three years as an adjunct faculty and seven years as a lecturer, I taught graduate courses for the School of Library and Information Science at Indiana University, where I also provided support to distance learning students enrolled in its programs around the state. Although my teaching responsibilities focused on youth services librarianship, I also taught core courses such as Information Sources and Services and developed a popular class on grant writing.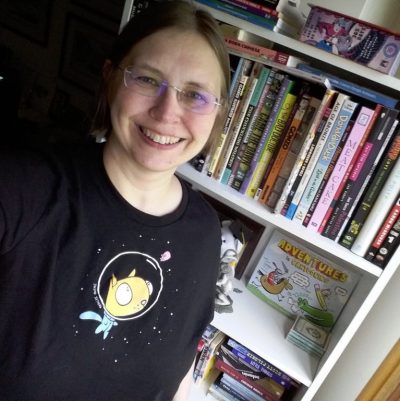 Random Facts
I grew up in Vevay, Indiana—a lovely town on the Ohio River—which had fewer people living there than my college freshman dorm.
In 2007 I appeared as a contestant on Jeopardy! I didn't win, but it was a lot of fun.