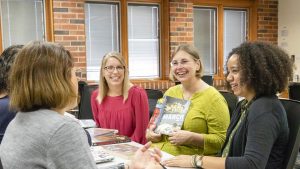 Since 2007, I am a professor on the faculty of the School of Information Sciences (formerly, the Graduate School of Library and Information Science) at the University of Illinois, where I teach courses in comics reader's advisory, media literacy, and youth services librarianship.
At Illinois, I am affiliated with the Center for Children's Books (which is part of the School of Information Sciences), the Center for Writing Studies, and Gender and Women's Studies. You can learn more about my research and scholarship here.
I am an Indiana University alum. I earned my BA in English in 1992, MLS in 1993, my PhD in Information Science, also from Indiana University, in 2007. My dissertation was titled, "Of Nightingales and Supermen: How Youth Services Librarians Responded to Comics Between the Years 1938 and 1955."
Before becoming a librarian educator, I worked as a high school librarian and had supervisory duties at the elementary school level. For nearly 10 years, I taught graduate courses for the School of Library and Information Science at Indiana University. During much of that time,  I provided support to distance learning students enrolled in its programs around the state. I taught courses including Literature for Children and Young Adults, Information Sources and Services, and grant writing.
From 2008 through 2013, I served as co-editor of School Library Research, the online peer-reviewed journal of the American Association of School Librarians. From January 2014 until January 2017, I was Director of External Relations for the Association for Library and Information Science Education (ALISE). I was a 2016 judge for the Eisner Awards, the Oscars of the comics industry. Currently I am Immediate Past President of the Comics Studies Society.
My wife Kathryn and I have two grown sons, three cats, a dog, and a too-wild backyard.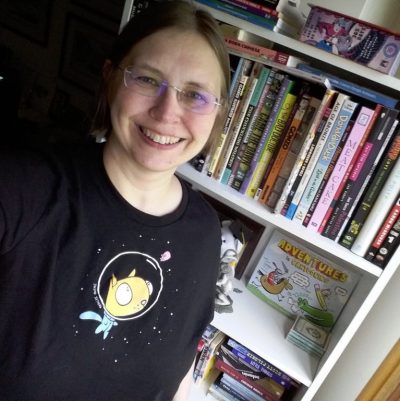 Random Facts
I grew up in Vevay, Indiana—a lovely town on the Ohio River—which had fewer people living there than my college freshman dorm.
In 2007 I appeared as a contestant on Jeopardy! I didn't win, but it was a lot of fun.