In late March 1968, National Periodical Publications (aka DC) merged with Kinney Service Corporation, a company best known for its parking lots, funeral homes, and cleaning services. This was not a cash sale but an exchange of approximately 1.4 million shares comprising Common and Series B Kinney shares to National's owners (e.g. the four individuals named below, their families, and two other individuals: Morton J Stone and Robert Todd Lang). The comics business accounted for about 40% of Kinney's overall operating revenue portfolio for fiscal year 1968.
Extant public business records are difficult to come by, but thanks to a divorce proceeding between Alice and Irwin Donenfeld, we can gain a little insight into how profitable the comics business was for DC's executives.***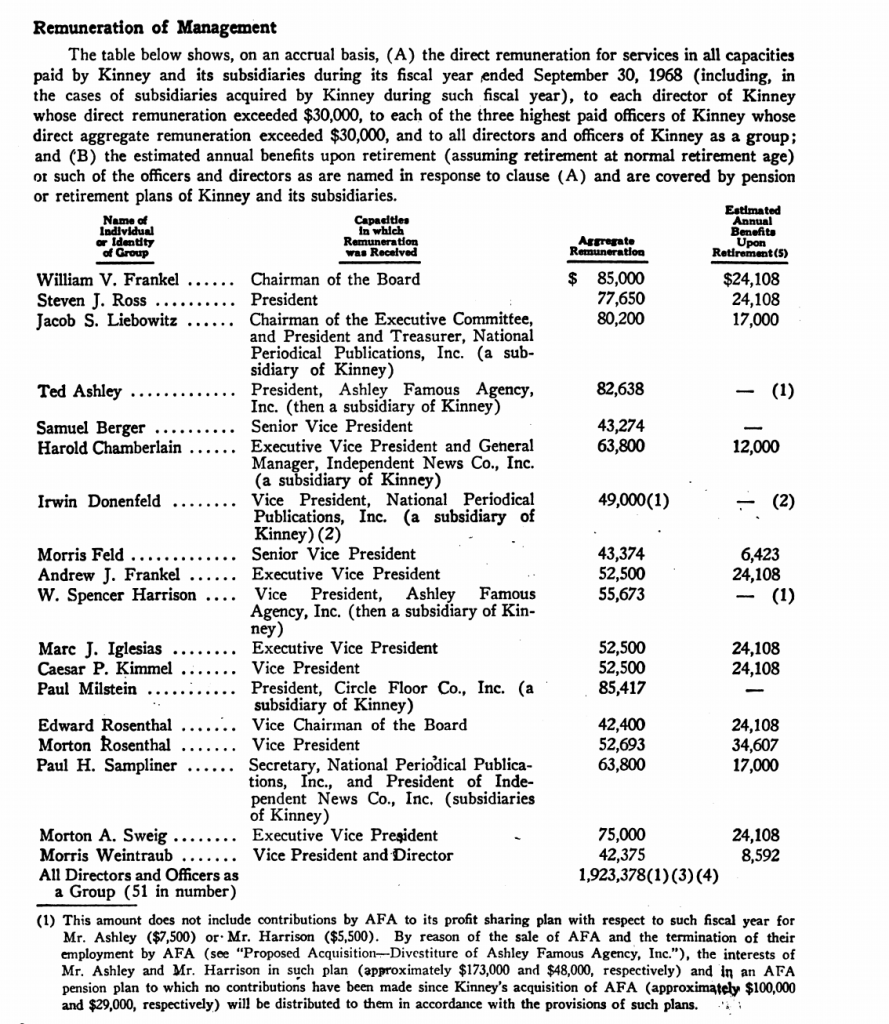 In the figure above, the "aggregate remuneration" for Jacob (Jack) Liebowitz, Harold Chamberlain, Irwin Donenfeld, and Paul Sampliner – executives associated with DC and the Independent News Co (its distribution arm) – are visible. In 2020 purchasing power, Liebowitz's pay is in the $600,000 range; Chamberlain's and Sampliner's is about $470,000; Donenfeld's is about $360,000. Given today's corporate pay inflation, these compensation packages may not seem excessive, but during this period the ratio of CEO-to-worker pay was about 20:1, rather than today's nearly 300:1 ratio.
Moreover, the compensation from Kinney was likely not the only monies these individuals earned. A copy of the Donenfelds' 1968 tax return indicates that a total income of nearly $100,000. This included the Kinney compensation, Alice's salary as an attorney, and about $40,000 in dividend income from Kinney, National Periodicals, and World Color Printing. Irwin Donenfeld resigned from Kinney in October 1968.
***A portion of the Donenfelds' divorce proceedings are published in the records of the New York Supreme Court Appellate Division – First Department, per below.